Piku: Homeopathy is good for geriatrics
PIKU Movie Review:
Piku (Deepika Padukone) is an architect who has her own partnership firm in Delhi. Her father Bhashkor Banerjee (Amitabh Bachchan) is in his seventies who is a hypochondriac who is particularly obsessive and vocal about his chronic constipation. He is treated by a homeopath (Raghuvir Yadav). Piku looks after her father and manages her firm. She has no time for marriage but we get to know that she has occasional sex with her partner (Jishu Sengupta) in the firm to fulfill her 'need' and she is not a virgin. She also has a Masi (Moushumi Chatterjee), her mother's sister. Her father feels women should be independent and marriage creates hurdles in the way of their self-actualization. He thinks Piku should take care of him and her career and must not bother about marriage. Piku also has this running tiff with a taxi-service owner Rana Chaudhary (Irrfan Khan), a bachelor.
In the movie Deepika, Amitabh and Raghuvir keep discussing about Homeopathic remedies, chiefly Bryonia for constipation, Crategus for Hypertention/heart.
In the movie Amit ji is badly constipated. Also he indicates that parents should not be forcefully taken to the hospital, they deserve  peaceful and dignified last days. Homeopathy being safe and non-tortuous is the treatment of choice for parents. courtesy: dr.nambisons.com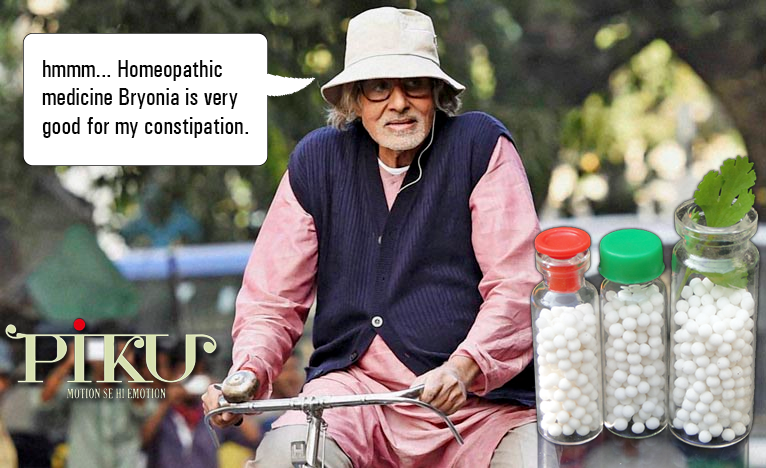 Braving all the sponsored attacks Homeopathy is still going strong due the strong support it enjoys from the common man. The Homeopathic community is thankful to the whole team of Piku for the support extended to the noble cause and Homeopathy.